Buitenveldert runway odd usage in bad weather
On this page you will see the photos I've taken from the spectator's terrace on wednesday the 14th of July 2004. On this day it was raining the whole day, I was soaking wet but didn't mind, as long as I could take aircraft photos. I stood for 4 hours in the rain with no umbrella as that would only hinder me from taking photos. This in part explains why these photos aren't the best quality out there, as well. Because of the bad weather the Buitenveldert runway, to many people's surprise, was used for both landings and take-offs simultaneously. On this day I've seen one go-around of a Transavia Boeing 737-800 and one very close call involving a Northwest Airlines DC-10-30 having just started its take-off acceleration while just behind it, a KLM 747-400 was already touching down after it's final approach. So to everybody who didn't believe the Buitenveldert runway can't or never is used for take-offs and landing simultaneously, here's the evidence.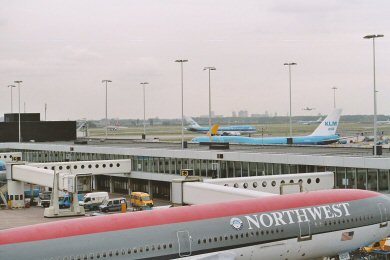 A close call?
Here's my photo of the Northwest Airlines DC-10-30 just starting to accelerate (on the left of the photo), while the KLM 747-400 (on the right of the photo) is about to touch down on the same runway, the Buitenveldert runway. The DC-10 was accelerating very slowly while the 747-400 behind it was coming in at a much higher speed. The DC-10 didn't even pass the first Buitenveldert intersection while the 747 was already touching down. This was a very unique but scary moment.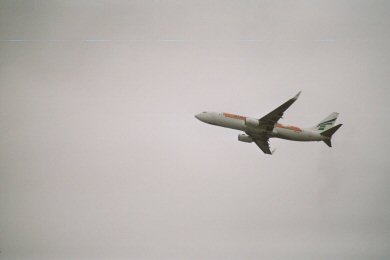 Go-around
This Transavia Airlines Boeing 737-800 was performing a go-around when the pilots noticed there was still a KLM Uk Fokker 100 on the runway during final approach. The pilots pulled up immediately at a high acceleration to make way for the departing Fokker 100. As you can see on the photo, the 737 was already at a fairly high altitude and right after this photo was taken, the aircraft made a sharp right turn to clear the way for the departing aircraft. A very good friend of mine who works for Transavia Airlines as a stewardess, was also on board this aircraft. So this photo is dedicated to her. Congratulations on your first go-around Carla ;-)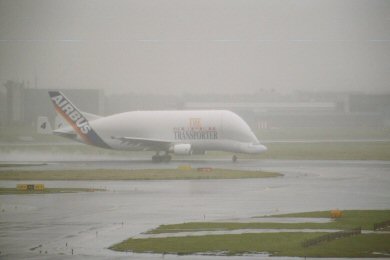 A nice but odd surprise...
This Airbus A300 Super Transporter made a very unusual stop-over at Schiphol on this day. When it arrived, it parked close to the Martinair Maintenance hangars, nobody stepped in or out of this aircraft, anti-collision lights were kept on, they just stood there for 30-40 minutes and than they took off again in heavy rain, as can be seen on my photo. Sorry for the bad photo quality, but this was the first time I saw the A300 Super Transporter, which is the reason why I decided to put this photo on my website. So it was a welcome surprise :-))
Aircraft info: Airbus Industrie A300B4-608ST Beluga, constr. nr. 776/004, reg. F-GSTD.