LATEST UPDATES:
Uploads 30/07/04/31/07/04:
My latest uploads include pictures taken of the simultaneous use of the Buitenveldert runway, as well as pictures taken of KLM's 777. Northwest Airlines' new A330 is also featured in my latest uploads. These clickable photos can be viewed on the bottom of the Schiphol Airport Page One, formerly known as the Surinam Airways Page One. Also see my other latest photos taken from the spectator's terrace in the third page. Enjoy :-)
Uploads 09/07/04:
I have finally uploaded my photos of Surinam Airways' first Boeing 747-300 which was previously operated by KLM as PH-BUW. These photos were taken in June of 2004.
Uploads 03/06/04:
On May 28 2004 I took the following photos: See Varig's MD11, the biggest MD11 operator of the world. Meet Martinair Cargo's 747-300SF up close and personal!!! Also have a look at EasyJet's Airbus A319 as well as one of their newest Next Generation Boeing 737's. BMI Baby is promoting its flights to Wales with their new 'logojet'. See my first photo of Maersk Airlines' new livery. Last but not least, have a look at my first ever photo of a classic beauty, the BAe 748, in a nice cargo outfit!!! These photo's can be seen on the Schiphol Airport Page Three.
Surinam Airways Boeing 747-300
In the third week of June (2004) two friends of mine, arranged a tour at KLM's Maintenance Facility to have a look at Surinam Airways first Boeing 747. Photos can be seen in the Surinam Airways photo gallery.

So just sit back and take a few minutes to see some aircraft action at Schiphol Airport. Photos taken at Amsterdam Schiphol Airport include KLM, Northwest Airlines, Martinair, Varig, aircraft, Easyjet's A319, Surinam Airways, Atlas Air all metal, Eritrean, Ethiopian and more.


Send an email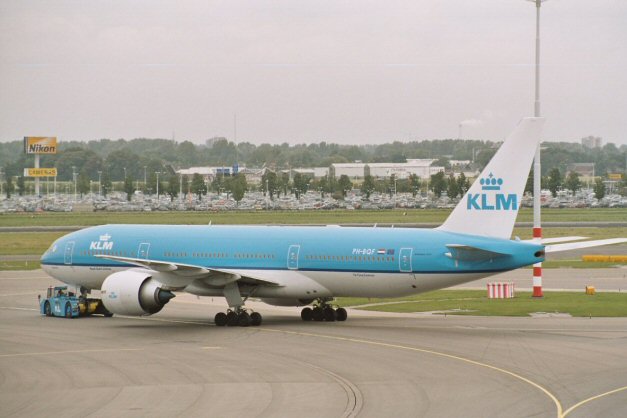 KLM Royal Dutch Airlines and the new 777
Most of KLM's 777's are handled at the F-Pier where this photo was taken.
Send an email